Broulee Surf School is the original South Coast NSW surf school, a family owned business established in 1996. For over 20 years we have delivered the highest standard of surfing instruction at the safest beaches in the Eurobodalla Shire.
We are licenced and insured by Surfing Australia, and all of our staff are fully qualified, experienced coaches with senior first aid and surf rescue certificates. Our priority is to provide a fun and memorable learn to surf experience with a focus on ocean awareness and surf safety.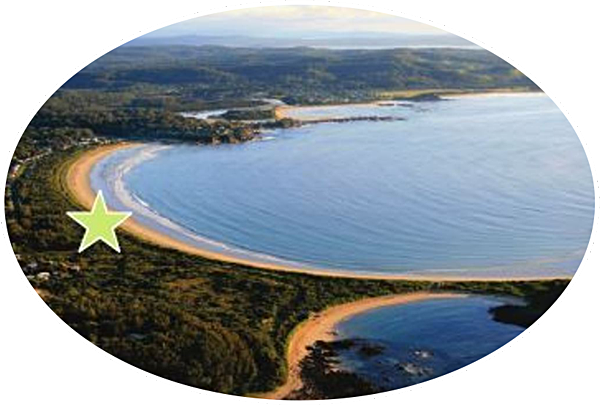 Broulee Surf School Location
Broulee, 'a village by the sea', is a coastal town on the NSW South Coast between Batemans Bay and Moruya in the Eurobodalla Shire. We are 2 hours drive from Canberra, three hours from Wollongong and 4 hours from Sydney. Our home beach North Broulee is considered one of, if not the best, learn to surf beach breaks in Australia due to its sheltered position and flat sand bottom. Most days of the year we have safe waves perfect for beginner surf lessons. Around the corner at South Broulee is a more challenging beach break suited to intermediate to advanced level surfers. This is our playground and we invite you to share it!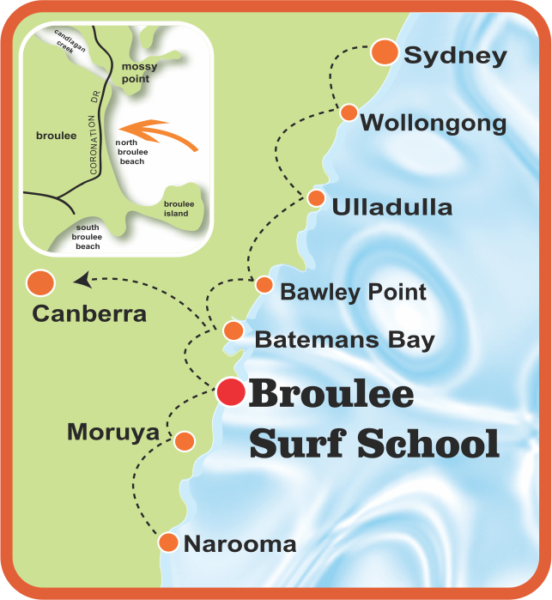 Broulee Surf School History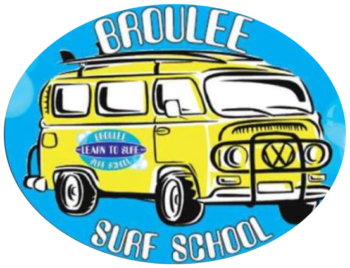 The surf school at Broulee Beach was founded in the 1990's by Kel Wehner, local surfing identity, surfboard maker and surf shop owner. Kel has surfed the Eurobodalla Shire for more than 30 years and pioneered many of the local breaks. He taught his kids Shane, Damien and Belinda to surf at a young age, who all discovered a life long passion for surfing.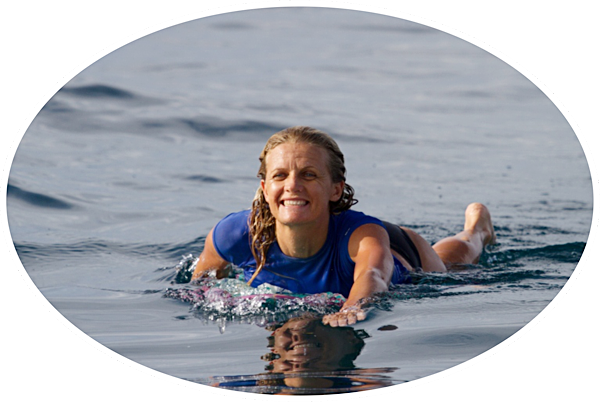 Following the lead of her father, Belinda Wehner built the surf school from a hobby to a local institution. After 12 years, she has now taken time out to travel the world with her surfboard and yoga mat.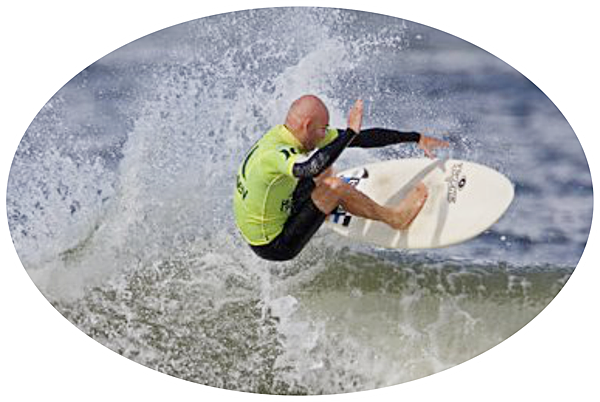 Shane Wehner had a successful pro career travelling the globe chasing the ASP World Tour for a decade in the 1990s. After many years working in the surf industry as a sales rep and retail manager, Shane has now returned to Broulee to take over the family business as Head Coach.
This surfing family have shaped Broulee Surf School to become the leading surf school on the NSW South Coast, with a reputation for delivering the ultimate learn to surf experience.
Shane portrait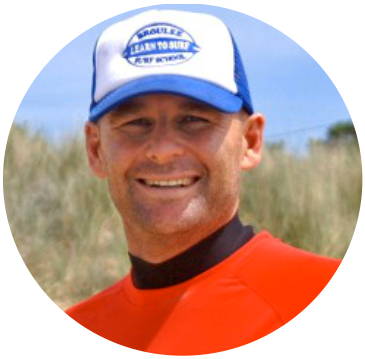 Shane rode his first wave at North Broulee beach at age 10 and went on to have a successful pro surfing career. In 2019 Shane won the Australian Surf Masters Title. He is proud to continue the tradition passed on from his father as the Head Coach of Broulee Surf School.
Nedwich portrait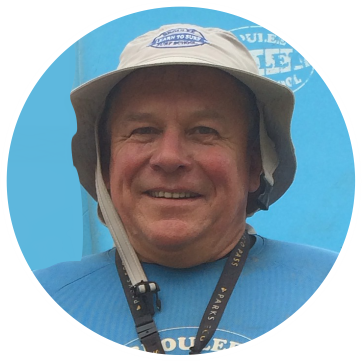 Rob is one of the best longboard and stand up paddle riders in Australia and regularly competes in National titles. He is also an international surfing judge when not sharing his skills with our lucky clients.
Paul Andrews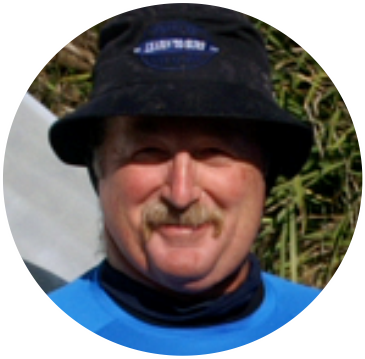 Paul has spent much of his life running outdoor education programs for schools. Now retired to Moruya, he is a welcome addition to our team not only for his surfing knowledge but his role as a lifeguard assessor.
Frequently Asked Questions
What will I Learn at Broulee Surf School?
We'll teach you the fundamental surfing skills to have you surfing with independence and confidence. We specialise in beginner lessons packages for complete novices, but also cater for intermediate to advanced levels. For example, our popular 3 day package, which takes you through Safe Surfing Certificate Levels 1, has the following Goals & Educational Objectives:
Lesson 1: An introductory lesson focusing on surf safety, paddling and catching waves and standing up!
Lesson 2: Improving length of ride, fine tuning stance and correct standing technique
Lesson 3: Learning to read waves, how to negotiate the surf zone, advanced paddling techniques and basic turning skills.
How Long will it take me to Learn to Surf?
It depends on your strength, flexibility, co-ordination and of course your dedication! We get nearly every able bodied person to their feet in their first lesson. We recommend at least a package of three in close succession to perfect the fundamental techniques and surf awareness. Of course, all surfing lessons should be followed up if you are not getting to the beach frequently and private surf lessons are ideal for people wanting to take it to the next level: catching green waves and executing manoeuvres.
Do I Need to be Able to Swim?
Not necessarily. North Broulee is a very safe beach to learn to surf and lessons are usually held in waist deep water so you can touch the bottom at all times. Your professional instructor is also close by to assist you. However if you wish to progress beyond the whitewater we recommend a minimum swimming ability of 50 metres. Please contact us if you have any concerns.
How Long does a Surf Lesson go for?
Group surfing lessons take approx. 2 hours to complete including set up and pack up time. A private surfing lesson has a duration of 1.5 hours including set up and pack up.
How Long does a SUP Lesson go for?
SUP Flatwater and SUP Surf lessons are approx. 2 hours in duration inc set up and pack up time. We endeavour to have you on the water for 1.5 hours.
What Days do Lessons run?
We run lessons all year round! Group surf lessons are usually held on weekends & every day in school holidays (except Xmas). Lessons on weekdays are also available by appointment.
What Time are the Lessons?
We schedule our lessons to take into account the daily tides and conditions – so our lesson times can change from day to day. When you make a booking we will discuss the time options for your preferred date. Please arrive right on the allocated start time of your lesson, coming early will only result in a lot of waiting around as all of our clients must arrive before the lesson can commence.
What Surfing Equipment is Supplied?
At Broulee Surf school we supply warm, full length wetsuits and Soft Surfboards which are safe, stable and easy to learn on. We have a range wetsuit sizes for every age and body shape from size 4 to XXL!
Does Surfing Equipment cost Extra with the Surf Lesson?
The cost of your surf lesson includes your surfboard and wetsuit – if you have your own wetsuit feel free to use it. We only use soft surfboards for group lessons as we know how they perform and industry regulations stipulate no hard or fiberglass boards must be used. However you may choose to use your own board in a one-on-one private lesson, or we will provide one for you.
What if I want to Practice Surfing between my Surf Lessons?
We encourage you to hire the equipment you are using in your classes either as a one day package so you can keep it on the beach with you for the rest of the day. Or you can hire the board and wetsuit for multiple days which is the best value for money and you will get the most from your instruction if you can practice in between each class.
What Should I Bring?
Sunscreen, swimmers, a towel and a positive attitude!
What if it's Raining on the Day of my Lesson?
We surf regardless. If it is raining, surfing is the best activity you can do as you are already wet and its a great way to get out of the house (or get the kids out of the house!) The only time a lesson is cancelled is in the VERY rare event that there are absolutely no waves, the surf is HUGE or it is unsafe due to high winds or lightning.
What if I can't Make it to the Lesson and Need to Reschedule?
If you would like to reschedule a lesson you have booked, we need at least 24 HOURS NOTICE. Failure to give the necessary notice will mean you forfeit the cost of that lesson. In this instance there are no refunds, partial or otherwise, or transfers to other people or services provided by Broulee Surf School.
How Do I Pay?
Our preferred method of payment is via our ONLINE BOOKING page. If you wish to pay over the phone we accept VISA, MASTERCARD and AMEX (surcharge applies for AMEX). We also accept EFT into our account over the internet. If you prefer to pay on the day, we require a credit card number as a holding deposit. We accept cash, credit card or debit cards at our office and on the beach prior to your lesson.
What if I Need to Cancel my Booking?
Please refer to our POLICIES
How do I get to the Surf School?
Broulee is best accessed by car, however there are daily bus services from Canberra and Sydney to the South Coast NSW. Getting around can be difficult in Broulee if you dont have a car. If you are catching a bus we recommend you get off at the bus stop in front of the shops in North Broulee. Our office is across the road and we often surf right out front! Look for our white surf van and trailer on the beachfront in Broulee.
Where can I Stay on the South Coast while attending the Surf School?
Broulee has a range of accommodation from up market, boutique style hotels to on site vans and cabins. You will find accommodation styles ranging from family holiday apartments and even budget accommodation with camp sites close by or in the surrounding NSW South Coast holiday towns like Batemans Bay and Moruya. We can recommend a place for individual travellers, couples and groups to stay just by contacting us.
Where can I Buy a Second Hand Surfboard or SUP?
THE MILLION DOLLAR QUESTION! We sell a few of our used soft boards and SUPs at the end of every season (after Easter) but they go fast! Otherwise good used boards are very difficult to find as everyone is learning to surf and no-one seems to be selling them. Try your local surf shop or check Ebay or Gumtree. And keep an eye on our Facebook page for boards for sale!
What if I can't find an Answer to my Question on your Website?
Please don't hesitate to call or email us, we would be happy to answer your query.