Learn how to surf with the experts!
Our famous surfing courses are held at popular Broulee beach, between Moruya and Batemans Bay on the Eurobodalla Nature Coast.
Enrol today to become a competent and confident surfer for life!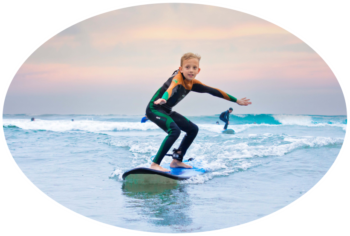 Level 1 Surfing Course for Beginners
Our Level 1 surfing course is designed for beginners to develop their skills over 2 consecutive lessons. Learn all the fundamental skills you need to become a confident and competent surfer in whitewater waves, including turning techniques and wave selection. At the end of the last lesson, participants will be presented with a Level 1 Course Certificate!

DAY ONE
How to put on a wetsuit – How to carry a surfboard – Warm up for surfing
Surf safety and ocean awareness – Parts of a surfboard
How to put on a leash – Entering the surf zone safely
How to paddle properly – Catching waves independently
Standing up with correct technique – Riding whitewater waves to the beach
How to wipeout safely
DAY TWO
Revision of skills learnt on day one – Negotiating the surf zone
Improving wave selection – Fine tuning take offs and positioning
Increasing speed and length of ride – Performing basic turns
Slide4
'If only I could give 10 stars!! Always giving the ultimate coaching to my son whose surfing confidence is soaring!'
Christine Winter - 5 star Facebook review December 2016
Slide5
'Amazing experience: great for kids and adults. Friendly instructors and fabulous consistent surf. Highly recommended.'
Nicholle2015 - 5 star review on TripAdvisor January 2017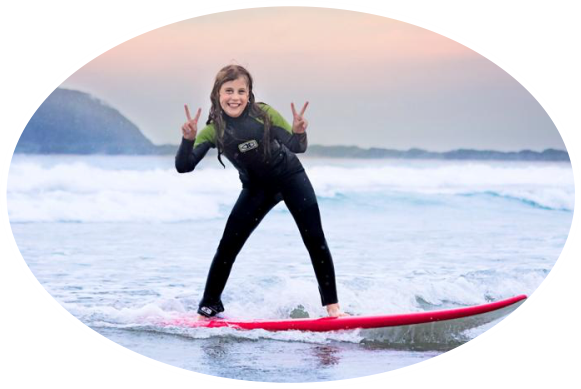 Surf Squad Term Program
Surf Squad is our after school surfing program for local children in primary or high school. It runs in Term 1 and Term 4 from 4pm-5.30pm over 8 weeks, to allow parents to get their kids to Broulee after the school bell. The program caters for different levels from complete beginners to semi-competent surfers. All equipment is provided but participants are welcome to bring along their own board and wetsuit, provided they are of the soft-top variety. For safety reasons no hard boards allowed. This a great social group and a genuine alternative to other sporting clubs. Your kids will make new friends and become 'surfers for life'!