Broulee Surf School, in partnership with Total Eco Adventures, has delivered quality outdoor education and school surfing programs to primary and secondary schools for 15 years.
We design customised programs for local schools in the Eurobodalla as well as visiting schools from the ACT and regional NSW.
Talk to us about how we can meet your educational requirements for your next coastal camp or excursion!
Full Day Program
The Full Day Program consists of a morning session (2 hrs) and an afternoon session (2 hrs) with a lunchbreak in between. Choose from Surfing, Stand Up Paddle, Bushwalking or Snorkelling around the Batemans Marine Park. Any combination of these activities is possible (weather permitting) and all equipment is provided. A healthy lunch option can also be included!
Some of our most popular programs are:
SURF & SNORKEL COMBO
A 2 hour surf lesson at North Broulee. Lunchbreak followed by a 2 hour Snorkel Tour around Broulee Island.
SURF & SUP COMBO
A 2 hour surf lesson at North Broulee. Lunchbreak followed by a 2 hour Stand Up Paddle Tour on the Tomaga River.
ALL SURF PROGRAM
A 2 hour introductory surf lesson. Lunchbreak followed by another 2 hour progressive surf lesson to improve skills.
'Our staff are thoroughly impressed with the professionalism of the company and all of its staff. This means the students will get the most learning from the session. Broulee Surf School are a credit to the surf instructing industry and we would happily recommend them to other schools, teachers and friends.
UC Lake Ginninderra College - ACT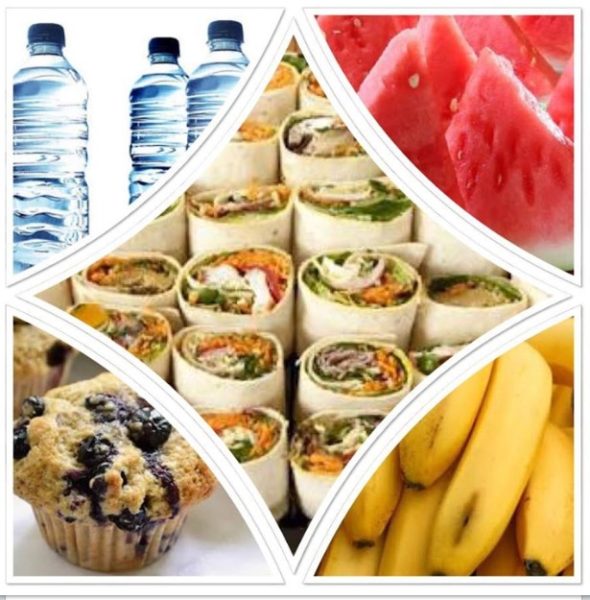 Healthy Lunch Options
We can provide a nutritious and affordable lunch option to keep the troops fed and energised for the next activity.
Sliced meat and salad wraps – home baked muffins – fresh cut fruit – bottled water
Vegetarian and vegan choices also available on request. Ask about a price per person for your next camp!
Who we work with
Moruya Primary School – St Peters Anglican College – Broulee Public School – Carroll College
UC Lake Ginninderra College – Canberra High School – Gold Creek Secondary School
St Francis College Leeton – Sacred Heart School Cootamundra – Trinity College Goulburn
 Namadgi School – Erindale College – Stromlo High School – Melba Copeland Secondary
Canberra Grammar School – Canberra Girls Grammar School  – Lyneham High School
Canberra College – Burgmann School – Amaroo High School – Calwell High School
Multi-Day Program
Our Multi-Day program can consist of 3 or more sessions of 2 hours each in any order or schedule (weather permitting). Choose from the following activities: Surfing, Stand Up Paddle, Snorkelling and Bushwalking. The more sessions, the better the discount per student… and in most cases teachers participate free of charge! We can cater from groups as small as 12 to as many as 48 depending on equipment and staff availability. We can also help you arrange accomodation ranging from camping to dorm style facilities to suit your budget.
An example of a popular program for 24 students:
DAY 1:
10.30am – Arrive Broulee – Surfing lesson at Broulee Beach
12.30pm Lunch
1.30pm – Snorkelling at Broulee Island
4pm – Settle into accomodation
DAY 2:
8.30am – Stand Up Paddle lesson on Tomaga River
10.30am Morning Tea
11am – Surfing lesson at Broulee Beach
1pm – Lunch
2pm – Visit the Mogo Zoo
3.30pm – Depart Mogo