Stand up Paddle, or SUP for short, is the most popular water sport in the world today.
Enjoy a unique perspective of the marine environment from your stand up paddle board.
Choose from SUP lessons or SUP hire in Broulee, near Batemans Bay.
Explore the scenic waterways of the Eurobodalla Nature Coast. Fun for the whole family!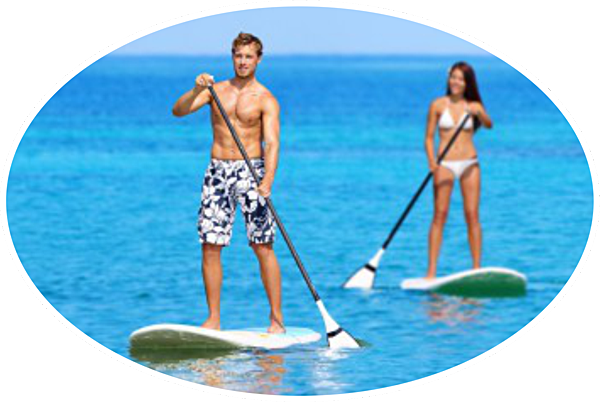 Stand Up Paddle Hire
Hire a Stand Up Paddle board and set off to explore the ocean, rivers and creeks surrounding Broulee.
Equipment hire is for 4 or 8 hours which allows plenty of time to explore the mangroves and sandy beaches of the Eurobodalla Nature Coast.
Keep a keen eye out for a variety of fish, crustaceans, seabirds and stingrays!
Slide 1
What will I Learn in a SUP Lesson?
SUP is relatively easy to master with the right instruction and technique. We'll teach you the fundamental skills to have you stand up paddling with independence and confidence, regardless of your age, size or fitness level.
Slide2
How Long will it take me to Learn to SUP?
It depends on your strength, flexibility, co-ordination and of course your dedication! We get nearly every able bodied person to their feet in their first half an hour of their lesson and paddling confidently on their own.
Slide3
Do I Need to be Able to Swim?
Not necessarily. Your professional instructor is always close by to assist you until you are ready to venture on your own. However there are places where the water is deep and you are likely to fall in at some point. We provide life vests for weak swimmers.
Slide6
What Days do Lessons run?
SUP lessons are usually held on weekends & every day in school holidays (except Xmas). Lessons on weekdays are also available by appointment.
Slide8
What Stand Up Paddle Equipment is Supplied?
We supply SUP boards to suit your weight which are safe, stable and easy to learn on. Quality paddles which are adjustable to your height. Life vests are also available on request.
Slide11
What Should I Bring to my Lesson?
Hat, sunscreen, swimmers, a tee shirt or rashie, towel and a smile is all you need to get paddling!
Slide12
What if it's Raining on the Day of my Lesson?
If it is raining lightly, we usually run the lesson and we offer wetsuits to keep you warm and comfortable. The only time a SUP lesson is cancelled is if our staff decide the weather is too dangerous due to heavy rain, high winds, floods and lightning storms.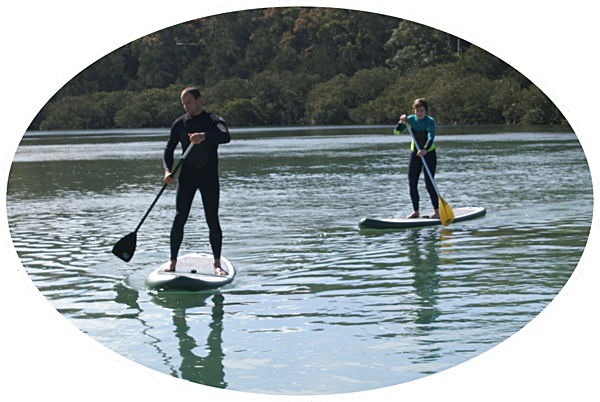 Stand Up Paddle Lessons
This lesson is the ultimate SUP experience! Immerse yourself in nature and learn to paddle board on the flatwater rivers and creeks of the Eurobodalla Nature Coast.
Your professional SUP instructor will teach you all the correct techniques to have you paddling confidently before setting off to explore the environment. Expect calm water with minimal current and a relaxed pace – this adventure is suitable for anyone with a reasonable level of fitness.
Tour duration is 2 hours inc set up and pack up. Suitable for ages 10 years and above.

How to carry a SUP board
How to adjust the SUP paddle
How to fit the SUP leash
Safely entering the water
Positioning on the board
How to correctly stand on the board
Basic paddle strokes
How to stop and turn the board
What to do if you fall in
Water safety and maritime rules
Slide 1
'Our family of four took a 2 hour paddle board class. Our guide took us to the calm waters of the Tomaga river. The guide was very patient and knowledgable. Would definitely come again.'
jjpol - 5 star review on TripAdvisor January 2016
Slide2
'6 absolute beginners attempted a Stand up paddle lesson. What a great time we had. We all stayed upright and dry! The guide taught us the basics of SUP and we were fortunate enough to see stingrays and fish in the Tomaga River.'
elizat64 5 star review on TripAdvisor January 20162017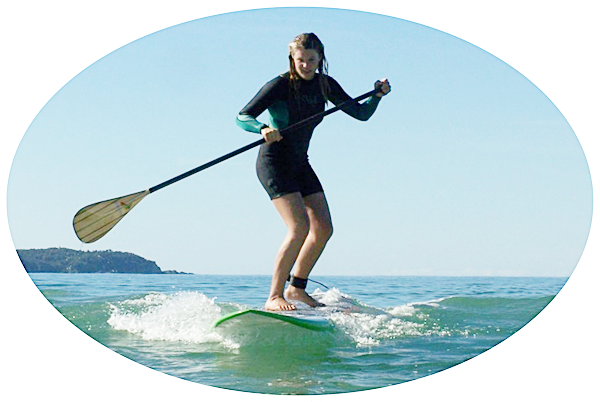 Surf SUP Lessons
If you are a beginner SUP rider looking to experience the thrill of riding waves, we will find the best location and conditions to help you achieve your goals.
To take advantage of the calm morning conditions, we start at 8am when there is minimal wind and crowds. Early bird catches the wave!
The introductory lesson starts on flat-water and focuses on posture and paddle stroke techniques. Once you have mastered this, we find the best beach break to paddle out with your coach and learn to read and catch broken waves, executing turns and surf etiquette.
This activity is suitable for ages 16 yrs and above with a good level of fitness and balance. We recommend a surfing lesson or some surfing experience before attempting to SUP Surf.