Broulee Surf School was founded way back in 1996. Surfing is our business and business is swell!
Our famous beginner surfing lessons are held at Broulee beach near Batemans Bay… Surf The Bay with us!
The best and safest learn to surf waves on the NSW south coast… an unforgettable experience for the whole family.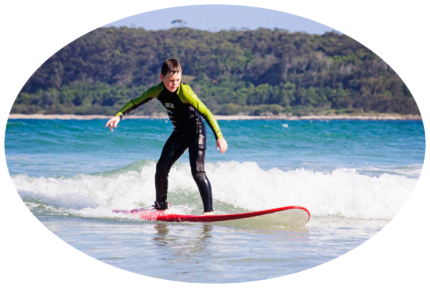 Group surfing lessons
Group surf lessons are designed for beginners with little or no surfing experience. Our professional coaches will teach you the fundamental surfing skills to have you up and riding whitewater waves in no time!

How to wear a wetsuit
How to carry a surfboard
Warm up for surfing
Surf safety and ocean awareness
Parts of a surfboard
How to put on a leash
Entering the surf zone safely
How to paddle properly
Catching waves independently
Standing up with correct technique
Riding whitewater waves to the beach
How to wipeout safely
Slide4
'If only I could give 10 stars!! Always giving the ultimate coaching to my son whose surfing confidence is soaring!'
Christine Winter - 5 star Facebook review December 2016
Slide5
'Amazing experience: great for kids and adults. Friendly instructors and fabulous consistent surf. Highly recommended.'
Nicholle2015 - 5 star review on TripAdvisor January 2017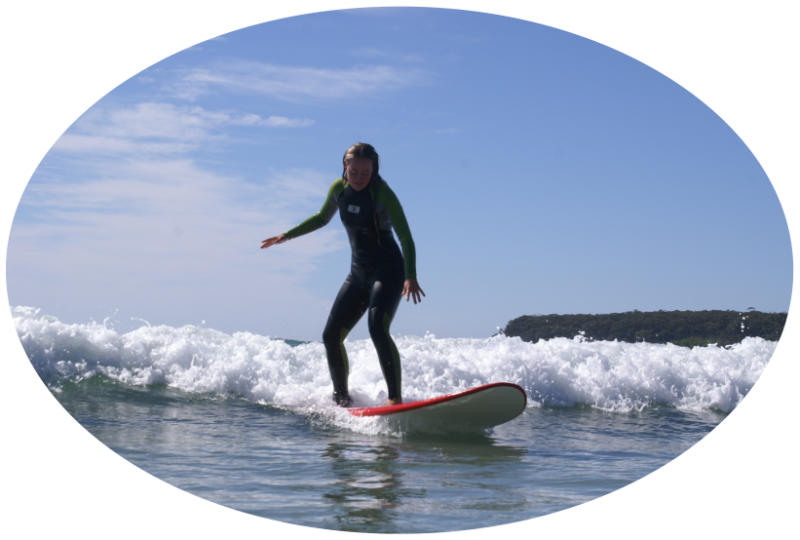 One Day Surf Package
If you are a raw beginner looking to experience the thrill of riding a wave, this discounted surfing lesson and surf hire package is for you! Join a group lesson in the morning and keep your board and wetsuit for the rest of the day to keep improving your skills! Gear must be returned by 5pm. Simply choose the One Day Package option when booking your lesson.
Slide 1
What will I Learn at Broulee Surf School?
We'll teach you the fundamental surfing skills to have you surfing with independence and confidence.
We specialise in beginner lessons packages for complete novices, but also cater for intermediate to advanced levels.
Slide2
How Long will it take me to Learn to Surf?
It depends on your strength, flexibility, co-ordination and of course your dedication! We get nearly every able bodied person to their feet in their first lesson. We recommend at least a package of three in close succession to perfect the fundamental techniques and surf awareness. Of course, all surfing lessons should be followed up if you are not getting to the beach frequently and private surf lessons are ideal for people wanting to take it to the next level: catching green waves and executing manoeuvres.
Slide3
Do I Need to be Able to Swim?
Not necessarily. North Broulee is a very safe beach to learn to surf and lessons are usually held in waist deep water so you can touch the bottom at all times.
Your professional instructor is always close by to assist you.
Slide6
What Days do Lessons run?
We run lessons all year round! Group surf lessons are usually held on weekends & every day in school holidays (except Xmas). Lessons on weekdays are also available by appointment.
Slide8
What Surfing Equipment is Supplied?
We supply soft surfboards to suit your height which are safe, stable and easy to learn on. We have a range wetsuit sizes for every age and body shape from size 4 to XXL!
Slide11
What Should I Bring to my Lesson?
Sunscreen, swimmers, a towel and a go-for-it attitude is all you need to get surfing!
Slide12
What if it's Raining on the Day of my Lesson?
We surf regardless. If it is raining, surfing is the best activity you can do as you are already wet and its a great way to get out of the house (or get the kids out of the house!) The only time a lesson is cancelled is in the VERY rare event that the ocean is completely FLAT our staff decide the weather is too dangerous.
Private Surfing Lessons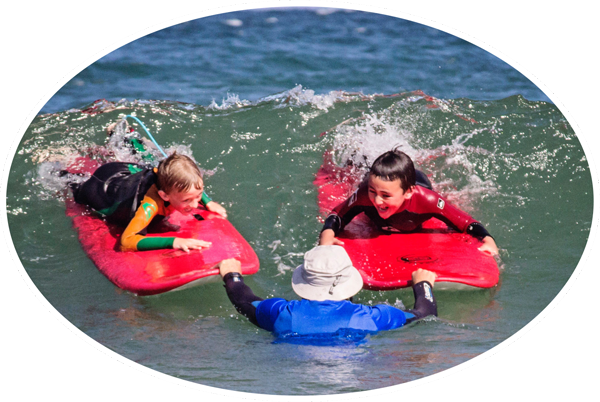 One-on-one personalised surfing tuition with a professional surf coach. If you are a raw beginner wishing to master the basics, or an intermediate surfer looking to improve your skills, we can design a surfing lesson to achieve your goals. Lessons are 1.5 hours duration including equipment. Why not bring along a friend to share the fun and receive a discount!