Surf Squad is the best way for kids to learn to surf in a safe environment.
This program for children aged 12 years and under offers tailored kids surfing lessons to develop their surf skills and learn all about ocean safety.
Choose from Weekend or School Holiday surf lesson programs over 2 – 3 days at beautiful Broulee beach.
All Surf Squad students begin at Level 1, and can progress through Level 2, learning the fundamental skills to become an independent 'surfer for life'!

School Holiday Program – 2 Days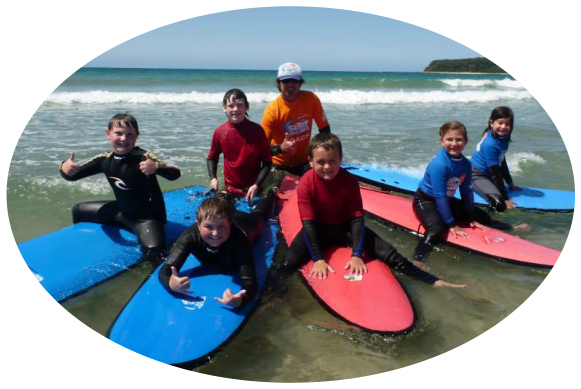 This program runs over 2 consecutive days during school holidays. Each lesson runs for 2 hours and incorporates surf safety education, social beach games, and practical surfing instruction.

PRACTICAL SURFING SKILLS

How to wear a wetsuit – How to carry a surfboard – Warm up for surfing
Surf safety and ocean awareness – Parts of a surfboard – How to put on a leash
Entering the surf zone safely – How to paddle properly – Catching waves independently
Standing up with correct technique – How to wipeout safely
Negotiating the surf zone – Improving wave selection
Fine tuning take offs and positioning – Riding whitewater waves to the beach
SURF SAFETY EDUCATION
Surf Conditions – details the types of waves a surfer may encounter; how the wind and weather impacts surf conditions; how to recognise rips and other dangerous currents in the surf; understanding surfing etiquette; and how to protect the beach environment for future generations to enjoy.
Slide 1
Is Surf Squad safe for my child?
Surf Squad has been developed with your child's safety as the priority. We are licensed by Surfing Australia, meaning we are required to follow strict guidelines relating to operational quality and safety. Every surf coach we employ is an experienced and accredited Surfing Australia instructor; mandated to hold a surf rescue certificate & senior first aid certificate & a valid 'working with children' card.
Slide2
My child is not a strong swimmer - can they still join in?
Your child needs to be water confident to join Surf Squad. It is our expectation that your child can: float unassisted; submerge without fear; move around independently in an ocean environment. All Level 1 activities are conducted in shallow water (waist depth) only. This allows those with a limited swimming ability to participate in the program.
Slide3
How many coaches will be in attendance?
Surfing Australia sets a safe maximum ratio of 1 instructor : 8 students, to ensure maximum enjoyment and success in the water. We encourage keen parents to get in the water and help out as a volunteer!
Slide6
Is Surf Squad competitive?
We are acutely aware of many parents concern about their child entering competitive sports too early. The focus is on participation and enjoyment, not on winning. Competitive surfing is something that kids can graduate to individually if they choose to do so later on.
Slide8
What Surfing Equipment is Supplied?
We supply soft surfboards to suit your child's height which are safe, stable and easy to learn on. We have a range wetsuit sizes for every age and body shape from size 4 to adults, however you are welcome to bring your own wetsuit.
Slide11
How old does my child need to be to register?
To register your child into a Surf Squad program, they will need to be between 6 and 14 years of age at the start date of the program.
Slide12
What if it's Raining on the Day of my Lesson?
We surf regardless. If it is raining, surfing is the best activity you can do as you are already wet and its a great way to get the kids out of the house! The only time a lesson is cancelled is in the VERY rare event that the ocean is completely FLAT our staff decide the weather is too dangerous.
School Holiday Program – 3 Days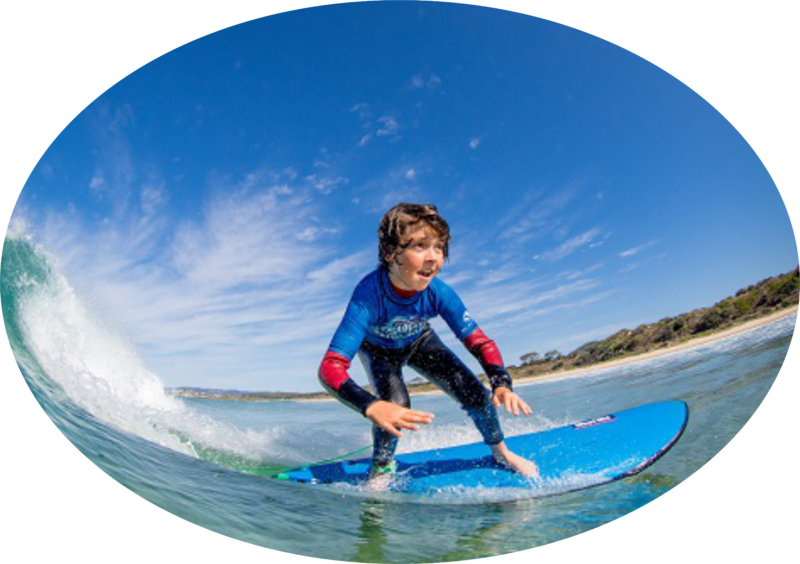 During school holidays, there is the option to complete 2 Surf Squad levels in the same week. Over 3 lessons your child will show steady progress with their surfing skills and learning, with the goal of becoming a competent and independent surfer in whitewater waves. Under the close guidance of a professional coach, students will begin to venture into deeper waters and attempt riding unbroken 'green waves'.

PRACTICAL SURFING SKILLS
How to put on a wetsuit – How to carry a surfboard – Warm up for surfing
Surf safety and ocean awareness – Parts of a surfboard – How to put on a leash
Entering the surf zone safely – How to paddle properly – Catching waves independently
Standing up with correct technique – Riding whitewater waves to the beach – How to wipeout safely
Negotiating the surf zone – Improving wave selection – Fine tuning take offs and positioning
Increasing speed and length of ride – Performing basic tricks
Improving wave selection – Fine tuning take offs and positioning – Performing basic turns
Catching unbroken 'green waves'